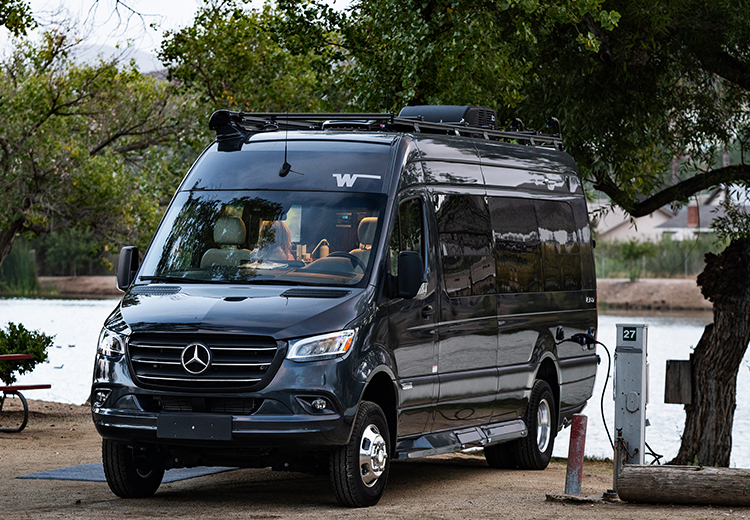 Winnebago Era Product Information
Winnebago Motorhome Sleeping Configurations 
Winnebago Motorhomes offer a variety of bed configurations. Each floorplan maximizes the most efficient use of space based on its particular layout. Despite some models having very similar sleeping options across floorplans, there is still great variety. For example, each Winnebago Adventurer floorplan includes a standard queen-sized bed (with an optional upgrade to king-sized bed in the 36Z) as well as an optional StudioLoft bed; however, there are still differences across the five floorplans. Each includes the BenchMark Dinette (which provides an additional sleeping surface) with the exception of the 30T which instead incorporates a more traditional dining table with chairs. Other convertible sleeping options include the Sofa Bed, TrueComfort+ Sofa, and even an extendable sofa in the 35F. As a result, each floorplan utilizes space uniquely and efficiently.
Continue reading to learn more about the different sleeping configurations available in Winnebago RVs as well as some differences between floorplans.
Two of the most popular convertible sleeping features include sofas and dinettes because of their versatility and multi-purpose functionality. Both are used across all three Winnebago motorhome classes from the large and spacious Class As to the most compact of Class B vans. Dinettes that can be transformed into a sleeping surface, are available in the traditional-looking Benchmark Dinette and the U-Shaped Dinette. Sofa options are even more versatile as they allow for different sizing to fit any floorplan, even those within the same model line. For example, the Era 70A includes a sofa that when extended, converts to the size of a traditional twin-sized bed while the sofa in the 70B floorplan converts into a bed with dimensions comparable to a king-sized bed.
The Winnebago Minnie Winnie and Winnebago Spirit are another example of sleeping options that vary across floorplans. While all of the Minnie Winnie and Spirit floorplans include the U-Shaped Dinette, the 25B floorplan includes a traditional dinette all of which provide an additional sleeping surface. The four largest Minnie Winnie and Spirit floorplans (including the 25B) include the convertible sofa/bed option to maximize space. Another outlier is the Minnie Winnie 31H floorplan, as it is one of the few Winnebago RVs that includes bunk beds.
Another bed option that is included across multiple classes is the Murphy+ Bed. This features is utilized in the compact Solis, where only one half of the bed folds up to allow for a walkway, while the View/Navion 24D includes a design where the full bed folds up onto the wall.
One bed option that is common in Class B vans and a number of Class C RVs is the Flex Bed System. This configuration utilizes two twin beds that can be connected with cushion inserts to create a larger sleeping area. The greatest benefit of this setup is the ability to maximize storage and walkways, especially in more compact Class B vans, while still providing a comfortable and spacious sleeping area.
A common bed option is the StudioLoft Bed which utilizes overhead cab space by adding a powered adjustable sleeping space that can be raised and lowered and includes a ladder to more easily access this area. This feature is included across both Class A and Class C models. In some floorplans it is standard while in others it is an available option. The Class A Vista/Sunstar 29V represents one example of this option being utilized. Although the 29V already includes a king-sized bed, convertible dinette, and sofa/bed, the StudioLoft bed adds yet another sleeping space for this small but mighty, family-friendly floorplan.

Another sleeping area in Class C RVs includes cabover bunks, this is a static area above the front cab that includes an additional cushion to complete the sleeping area and includes a ladder that hooks securely to the added cushion. This feature is included in the View, Navion, Minnie Winnie, and Spirit.
A feature that is unique to the Winnebago Revel is the Power Lift Bed. This feature allows for efficient gear storage underneath without sacrificing a comfortable sleeping surface.
The final bed option is one that is included in two models, the Winnebago Forza 38W and Winnebago Minnie Winnie 31H, is bunks beds. Bunk beds allow you to accommodate more passengers by creating separate sleeping spaces and can be used as storage space when not in use.
Maximizing space is a major priority when choosing your perfect RV, so the diversity of sleeping options available in Winnebago Motorhomes is a huge benefit.